No Magic In These Mushrooms As Couple Arrested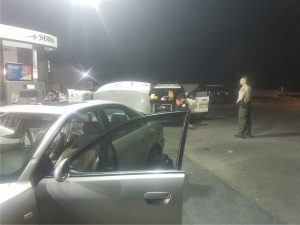 Arrest site

View Photos
Jamestown, CA – A suspicious man pumping gas at Tom's Sierra Gas Station off Highway 108 in Jamestown caught the eye of a Tuolumne County Sheriff's Deputy on patrol who then decided to investigate.
The man, 50-year-old Paul Thomas Smith of Modesto, was trying to use his body to hide his rear license plate, so the deputy checked out the front plate. A records check found the vehicle's registration was suspended and expired prompting a pat down of Thomas, who during the procedure admitted to having marijuana and methamphetamine in his pocket.
A search of the vehicle turned up more marijuana and several baggies full of psilocybin mushrooms in the rear seat. Sheriff's officials also referred to them as "psychedelic mushrooms or magic mushrooms." Inside a backpack the deputy also discovered items associated with packaging and sales of narcotics. Smith was arrested for drug sales and transporting, having over 1 oz. of marijuana.
Sgt. Deborah Moss relays, "Smith told the deputy he found the baggies of mushrooms on the side of the road after they had been thrown out of a vehicle that was driving in front of him on Chicken Ranch Rd earlier in the day. He later admitted to knowing what they were and that he was keeping the mushrooms with the intent to sell them."
A passenger inside the vehicle, 46-year-old Thalia Ann Gunkel of Modesto, who was on probation out of Stanislaus County for drug possession, was arrested for being under the influence of a controlled substance.