More Tree Mortality Removals To Slow Traffic Near Groveland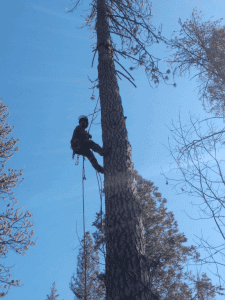 Tree Removal

View Photos
Sonora, CA — Motorists may encounter 15-minute delays these next two weeks while crews tackle removing nearly 12 dozen beetle-killed trees near Highway 120 just outside of Groveland.
Part of the work scope identified within Tuolumne County's tree mortality emergency response tree removal program, this particular project calls for felling 143 trees along Big Creek Shaft Road off Highway 120, according to contractor Bob Cooper, co-owner of Hope's Tree Service.
Crews are expected to be in place weekdays from 8 a.m. until 4 p.m., pending weather and other conditions that might slow the project, during which times traffic controls will be in place that may generate 15-minute waits. He estimates that the work should be complete on or before Friday March 9. To view images, click into the image box slideshow.
Hope's Tree Service was also the contractor for another tree removal project in the Groveland area scheduled for today only along Elmore Road, as reported here. Cooper says that job has just completed so travelers along that stretch should not encounter any related delays.