Mid February Events In The Mother Lode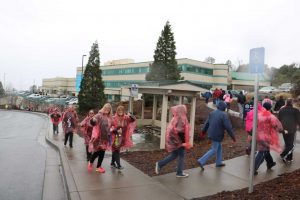 Adventist Health Sonora's Heart Walk

View Photos
A variety of events are scheduled this President's Day weekend in February, which is also American Heart Month.
Adventist Health Sonora's staff and cardiac patients are promoting healthy lifestyles with a Heart Walk. This Friday, February 16, at noon outside of the hospital's ambulance entrance the public is welcome to join a one-mile walk. Healthy refreshments will be provided and the first 150 participants will receive a free t-shirt. The walk is scheduled rain or shine but the forecast is for mostly sunny and cool weather. Details on the "Keep the Beat" event are in the community event calendar here.
Thursday's KVML "Newsmaker of the Day" was Josh Pfeiffer an American singer, songwriter, entrepreneur, and philanthropist with roots in the Mother Lode who will be performing in the Willow Creek Lounge at Black Oak Casino Resort.
Other performances include Mamma Mia! Musical Theatre by Sierra Reperatory Theater at the East Sonora Theatre. "A Mad Breakfast" A One Act Comedy at MYACT and The Matchmaker by
Tuolumne City Live.
Saturday events include the Richard Burleigh Memorial Scholarship Dance at the Sonora Opera Hall, and another Dinner Dance put on by the Humane Society of Tuolumne County at it's Jamestown location. The event features jazz music and is called "Pawsta Pawty Dinner Dance" ticket and more details are here.
At the Senior Center off Greenely Road in Sonora on Saturday is a Senior Driver Safety Class and later an All You Can Eat Crab Feed. The Crab Feed's proceeds benefit Meals On Wheels, Senior Lunch Program, Transportation Services and Firewood Delivery Program.