Supes Vote 5-0 To Allow Controversial Cell Tower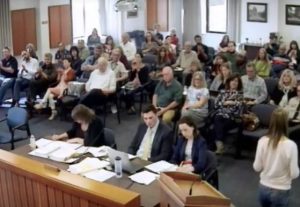 Cell Tower Public Hearing Turnout Feb 6 2018

View Photos
Sonora, CA — Parents and neighbors packed the Tuolumne County supervisors chambers for two hours while the board heard feedback over a cell tower project that has drawn ire.
It was shortly after 1:30 Tuesday afternoon when the supervisors opened up a public hearing and discussion, allowing those for, opposing and neutral over the Tuolumne County Planning Commission's decision in December to allow the construction of a 105-plus foot tall wireless telecommunications tower and facility in Jamestown after hearing appeals from a neighbor and local internet providers to deny the project.
As reported here, the tower and support structure is planned for location at 8555 Dante Drive, some 3,000 feet west of the intersection of French Flat and Rawhide roads. Due to its location within a subdivision, some neighbors showed up to further complain that the construction is in violation of the neighborhood's covenants and restrictions (CCRs), although these kinds of rules are not within the jurisdiction of the county to enforce.
School Parents Air Radiation Concerns
Since the Sierra Waldorf School is also nearby, a contingent of concerned parents showed up and entreated the board to consider potential radiation hazards. Some of them shared that they might even pull their kids out of enrollment if the project were to move forward. However, as it was pointed out in the meeting more than once, federal law dictates that no state or local government may regulate the placement, construction and modification of personal wireless service facilities strictly because of  radio frequency emission environmental effects as long as they are in compliance with FCC requirements.
Immediately after the comments concluded, the supervisors prefaced their own remarks by respectfully thanking all those who spoke as well as those who provided research information ahead of the session for the board's consideration. District 5 Supervisor Karl Rodefer, whose jurisdiction includes Jamestown, admitted to being torn over disappointing school parents and nearby residents who clearly did not want the tower to be built at that location, adding that he was weighing their input with what would be best for the community.
Further supported by similar subsequent comments by the other supervisors, Rodefer pointed out that along with it being a federal and state priority, one of the county's biggest goals for health and public safety and community development reasons is expansion of cell tower placements, emergency communications and broadband connectivity. He lamented any possible issues that Sierra Waldorf School enrollment could potentially face due to disappointed parents. "It is a great school. If anybody takes their kids out because of the tower there I think they are making a big mistake," Rodefer opined.
Other Supes Similarly Sympathetic, Resolute
District 3 Supervisor Evan Royce added his sympathies but indicated that it seemed since the tower would be located three-quarters of a mile from the school the distance was a reasonable one. District 2 Supervisor Randy Hanvelt weighed in that he "got" the parents' worries, having kids, grandkids and even great-grandkids in his own family to consider. "I am worried  about their future but I don't worry about this — I worry about drugs," he said. Referencing his own background as a retired scientist and the former board chair during the Rim Fire, he maintained expanding local telecommunications was absolutely essential to improving public safety, especially for emergency purposes.
District 1 Supervisor Sherri Brennan echoed those words. "We have huge shortfalls in communications and…weighing the community safety piece, [the concern] becomes front and center." District 4 Supervisor and Board Chair John Gray, in winding up the supervisors' comments, held up his cell phone, maintaining that radiation from these units themselves perhaps posed the greatest radiation risk to children."Weighing all aspects, I do not believe the cell tower is not the bigger issue," he stated.
After a motion by Rodefer to uphold the Planning Commission's decision, seconded by Hanvelt, the decision unanimously passed, 5-0.