Merchants Give Input On Downtown Sonora Safety And Mobility Plan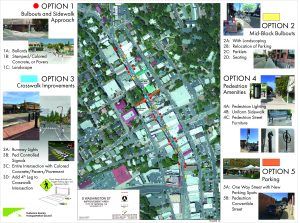 Proposed Options For Improving Downtown Sonora

View Photos
Sonora, CA — At a recent downtown Sonora merchants meeting, members of the public had another chance to weigh in on a plan being developed by the City of Sonora and Tuolumne County Transportation Council.
The entities are gathering community input which will be used to help draft a potential grant request to Caltrans. Specifically for downtown Sonora, we reported previously that some of the aspects of the plan could be adding bulb-outs, lighting, new street furniture, pedestrian signals, runway lights, etc.
At the monthly downtown merchants meeting held at city hall last week, Tuolumne County Transportation Council Executive Director Darin Grossi gave an updated presentation. He reports, "The input we got was almost entirely positive towards the project. There were a lot of questions about how bulb-outs would work, the turning movements, and what not. But overall, the public seemed to support safety improvements for pedestrians downtown."
The bulb-outs would go into the crosswalk and help pedestrians be spotted by motorists.
As for what is next, Grossi says, "The challenge to us will be to work with our consultants to design some bulb-outs that could work, and would be considered ok by Caltrans, and the city. Also, we heard a lot of support for flashing lights at the crosswalks, and perhaps some support for landscaping, and better lighting at the crosswalks."
As for an item that could be missing from the grant request, Grossi notes, "We didn't seem to have much support for mid-block bulb-outs, which would be more accommodating for restaurants and dining. Any loss of parking was met with a lot of resistance from members of the public."
The final grant proposal will later be presented to the Vision Sonora Committee, and City Council. If approved by the council it would be submitted to the state around March or April.