Update: Lawmakers Request For Audit Of California's Bullet Train Granted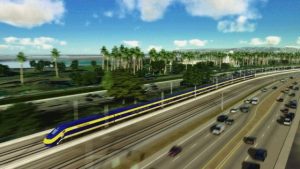 California High Speed Rail Artist Rendering

View Photos
Update at 3:30 p.m.: California's high-speed rail project will face fresh scrutiny by the state auditor following a nearly $3 billion jump in costs. A legislative panel approved an audit of the bullet train project Tuesday after a bipartisan push. State auditor Elaine Howle will take on the job of examining the California High-Speed Rail Authority's process for containing costs and staying on its timeline, among other things.
Original post at 8:15 a.m.: Sacramento, CA — A bipartisan duo in Sacramento will formally make a pitch for a comprehensive audit of the state's high-speed rail project.
Republican Assemblyman Jim Patterson of Fresno and Democratic Senator Jim Beall of San Jose will request the audit at today's Joint Legislative Audit Committee meeting at the capitol. The Associated Press reports that the request comes after the projected cost of one segment rose by nearly $3-billion. The total cost to build the train from Los Angeles to San Francisco is now estimated to be over $65-billion. The state hopes to complete the segment from San Francisco to Bakersfield by 2025 and connect to Los Angeles by 2029.
The lawmakers argue that the audit would ensure effective management of the project and look for cost savings, as well as ways to speed up completion.