YARTS Receives Federal Grant Money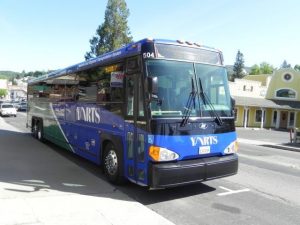 YARTS Bus

View Photos
Sonora, CA — Thanks to a grant from the Federal Lands Access Program, the Yosemite Area Regional Transportation System (YARTS) will operate free of charge for 10 days this year.
The grant runs through three years, so there will be a total of 30 days of free service through 2020. YARTS Assistant Transit Manager, Cindy Kelly, says, "We are excited to assist the park with the management of vehicle congestion by offering an alternative to driving and parking. We wan to give Californians and other visitors the opportunity to experience our nation's jewel without adding to the congestion problem."
The Federal Lands Access Program is under the Federal Highway Transportation Administration.
YARTS is the only public transit option to Yosemite National Park, with buses entering Yosemite Valley from Sonora, Merced, Mammoth Lakes and Fresno, including various stops along the way. On January 15 the Highway 140 bus route offered free service, and it will do so again on April 21 and 22. All of the routes (Highway 120, 140, 41 and 395/120) are planning to offer free service on May 27-28, July 4, August 25 and September 22. Then only the Highway 140 bus will offer free service on November 10-11.
Seating will be limited and it will be on a first-come, first-served, basis. There will be no reservations.