New Studies Look At Drought And Fire In Sierra Nevada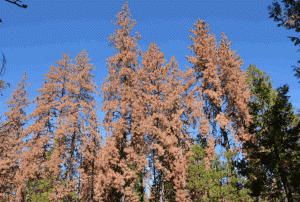 Tree Mortality In Sierra Nevada

View Photos
Research conducted by UC scholars note that the recent tree mortality crisis actually increased water runoff, but is also creating unprecedented amounts of fuel for wildfires.
The first study, looking at snow runoff, was led by scientists at UC Merced's Sierra Nevada Research Institute. The report notes that temperatures were higher than the prior decade, by average of about a degree Celsius, which resulted in 5-percent more precipitation being evaporated before arriving at reservoirs. However, the tree mortality epidemic, with over 100-million dead trees across the Sierra Nevada, led to a 15-percent increase in the amount of runoff in specifically 2016, than had been anticipated, as the trees and other dead vegetation were not soaking up the water. The study specifically looked at a section of the southern Sierra Nevada outside of Fresno. You can find it by clicking here.
While more water runoff is typically viewed as a positive, a separate study, conducted by UC Berkeley Fire scientists, indicates that tree mortality has created an unprecedented level of fuel, which could create very dangerous mega-fires in the near future, beyond the predictive capacity of current fire models.
Referencing fire suppression strategies, study co-author, Scott Stephens, says, "If our society doesn't like the outcomes from recent fires and extensive drought-induced tree mortality in Sierra forests, then we collectively need to move beyond the status quo. Working to increase the pace and scale of beneficial fire and mechanical treatments rather than focusing on continued fire suppression would be an important step forward."
More details regarding the second study can be found here.