More Marijuana Business For Calaveras Supes This Week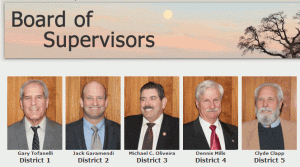 Calaveras County Board of Supervisors

View Photos
San Andreas, CA – After narrowly passing an outright commercial cannabis ban last week it appears that the Calaveras supervisors will be devoting at least another full meeting this week to hearing grower-related legal issues.
The agenda for Wednesday's session, now scheduled to be an Assessment Appeals Board (AAB) meeting has not yet posted, so there is no telling yet if any appeals are grower-related. It is also thought that, in the wake of last week's decision, another special supervisors' session might still be scheduled between sometime this week and the supervisors' next regular meeting on Jan. 23 to discuss the possibility of bringing a twin-set of board-sponsored initiatives to the June 5 voter ballot, as reported here.
As reported here, following a tumultuous day of public comments and board deliberations the board, in a 3-2 vote, allowed the ban to pass, immediately after which, District 3 Supervisor Michael Oliveira criticized the move for being too big for the board to decide without directly involving members of the voting public.
Following a poll of his colleagues, the determination was made to direct staff towards preparing both a ban and a regulatory ordinance. Although the window is short to make the June ballot, staff indicated that, if the board can come to a decision by month's end on what each initiative should contain, the Elections Office would be able to complete its work in time.
Tomorrow the supervisors, during their regular meeting scheduled for this week have slated only six regular agenda items. All are public hearings over commercial growers' appeals to previously denied appeals of their registrations through the Calaveras County Planning Commission.
According to the meeting documents, county staff is recommending the rescission of one denial decision on the grounds of a clerical error; the other five are currently being recommended for the supervisors to uphold.
The meeting is scheduled to begin at 9 a.m. in the government center's supervisors chambers (891 Mountain Ranch Road) following an 8 a.m. closed session over labor negotiations.