Royce: Curtis Creek Elementary Project To Start Soon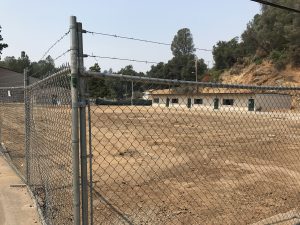 Curtis Creek Elementary Construction Area (fenced off)

View Photos
Sonora, CA — Evan Royce of Royce Construction says replacing a building that previously held 10 classrooms at Curtis Creek Elementary School should begin around end of the month.
We reported last January that an unfortunate electrical fire caused extensive damage at the school, prompting the impacted classes to temporarily relocate to portable structures.
Three companies submitted sealed bids for the work, and Royce Construction came in lowest at $3.7- million, so the school board awarded it the contract last month. Boyer Construction's bid was $3.9-million and Harris Construction was at $4.3-million.
Royce notes, "We're looking at starting fairly soon. We've got to finish all of the pre-construction documents, contracts, bonds and so forth. I would suspect it will be starting at the end of this month and I think by the end of 2018 it should be completed and online (11-month projected construction period)."
Royce, a Tuolumne County Supervisor, says it is a special endeavor for him personally, as he attended Curtis Creek, as did some of his employees, and he has friends and family that work at the school.
"We look at it as a wonderful opportunity, and a great place to be over the next year," he adds.
Around eight full-time employees will be assigned to the construction, he estimates, in addition to sub-contractors and other crews. The elementary school is located at 18755 Standard Road.