Democrats: The GOP Tax Reform Benefits The Rich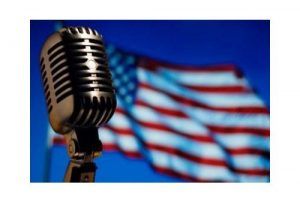 Microphone and US Flag

View Photos
During the Democratic Weekly Address, Representative Mike Thompson (D-CA) argued that a bill as monumental as the GOP tax bill "cannot and should not be jammed through Congress by one party alone."
Thompson was Tuesday's KVML "Newsmaker of the Day". Here are his words:
"I'm Congressman Mike Thompson. I represent California's 5th Congressional District, and I'm a Member of the House Committee on Ways and Means, the tax-writing committee.
This week, Republicans continued to push their tax bill that would devastate middle class and working Americans, and explode our national debt. This bill was written without the benefit of any hearings, any testimony from expert witnesses or any input from Democrats.
The bill is written to give massive, permanent tax breaks to the rich and to corporate interests, many of which ship U.S. jobs overseas. It does give a handful of temporary tax cuts to some middle class taxpayers, but actually raises taxes on millions of middle and working class families.
An overwhelming majority of these tax breaks go to the top 1 percent of the richest Americans.
The Republicans take away important tax provisions that so many middle class families rely on to make ends meet. And it's not just middle class families that will be hurt by the repeal of these provisions. Seniors, disabled Americans and veterans all count on various tax provisions that are now on the chopping block, effectively raising their taxes.
As a Vietnam veteran and supporter of our veterans, I find any legislation that would hurt our country's heroes to be particularly disgraceful. Our first responders also get a raw deal under this plan.
Republicans want to roll back the State and Local Tax Deduction – an important provision that funds vital, local government services like police and fire. It's shameful that they want to dismantle this deduction that will hurt law enforcement and firefighters so they can give tax breaks to folks who really don't need them.
The Republicans' bill also undermines the Affordable Care Act, taking health care away from 13 million Americans and raising premiums by 10 percent for everyone else. And the Republican plan adds a shocking $2.3 trillion to our already sky-high national debt, just to pay for these tax breaks for corporations and the very richest Americans. That means our kids and grandkids will be left to pay the bill.
To add insult to injury, the Republican leadership has stated they will cut Social Security, Medicare, veterans' benefits and other critical government services because the debt is too high. That's just wrong.
Democrats believe that our country needs real tax reform, but this is not tax reform. What the Republicans' bill does is shift important tax benefits from middle class and working families to the rich and to corporate interests. That's wildly irresponsible.
Democrats have been working from an agenda that's focused on strengthening and expanding the middle class. We call it 'A Better Deal.' As part of that Better Deal, we believe that meaningful tax reform must begin and end with middle class families, it shouldn't be built on their backs.
The American people deserve a fair tax code that leads to better jobs, better wages, and a better future that gives everyone a chance to realize the American dream. That means putting hard-working, middle-class families ahead of the richest among us, and building a tax code that allows small businesses and innovators to thrive.
Democrats are calling on Republicans to drop this wrong-headed bill and work with us on real tax reform. With something this big, it cannot and should not be jammed through Congress by one party alone.
Thank you."
The "Newsmaker of the Day" is heard every weekday morning at 6:45, 7:45 and 8:45 on AM 1450 and FM 102.7