Emotions Run High At Special Cannabis Cultivation Meeting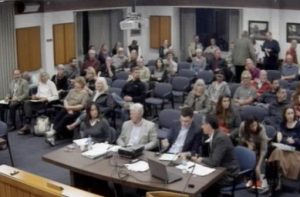 Tuolumne County Supervisors' special cannabis cultivation meeting

View Photos
Sonora, CA — A large crowd of those for and against whether to allow commercial cannabis activities in Tuolumne County showed up to the supervisors' special meeting in Sonora Tuesday with one supervisor putting it all on the table.
Citing the benefits of marijuana, with a cracking voice and emotions setting in, District 3 Supervisor Evan Royce told the attendees he could see himself having a nervous breakdown, citing the pressures of owning a construction business with 30 employees and working nearly 80 hours a week. He then noted, "I ate a pot brownie last night. Occasionally I do that and it helps me. It's not something you want to be honest about and confess in front of everybody because it can be scrutinized and people here could look at me and think that's a bad thing. My own grandma is probably going to be very upset with me, but I think honesty is a good thing." Royce added that even though he is running for re-election next year and it could be used against him and he wanted to be honest.
Royce disagreed with Tuolumne County Sheriff Jim Mele who had earlier given a passionate plea to ban the marijuana industry. Mele stated to the board, "My question to you is what price are we, and what risk are we willing to look at. So, I will fight on everything about cultivation and commercialization." A sentiment echoed by local educators in the crowd.
Sonora resident Bill Boyd disputed that an all-out ban would work, arguing, "We already have cannabis in this county. If you don't legalize it commercially, it's going to still happen. They'll be no taxes, less money to enforce the regulations that could be brought together by this group."
That brought skepticism from District 2 Supervisors Randy Hanvelt who countered, "I'm concerned about the cost of this thing. I'm not sure that we can cover the cost with taxes. I believe there are costs to this right now and we're not covering those and it concerns me." He went on to state, "I'm willing to go through the process to see if we can figure it out but I'm not willing to step beyond the point where we can't step back. This has got to be done in prudence, if it's going to be done at all."
In the end, the board agreed to continue discussions on cultivation, retail and manufacturing of marijuana through a set timeline of special meetings next year. It took Royce's suggestion to possibly create "a cultivation pilot program, perhaps at the Jamestown Mine site" to test different regulations that could be enacted.  The board also directed that the finance committee take up the taxation issue and report back at a later meeting.
Click here to view an earlier story detailing last month's special meeting focusing on outdoor cultivation.