Tuolumne County Moving Towards Allowing Limited Outdoor Marijuana Cultivation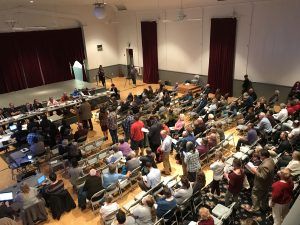 Tuolumne County Marijuana Meeting
Sonora, CA — After meeting for four-and-half hours about whether to allow outdoor marijuana cultivation, the board of supervisors directed staff to take a minimal, compromise, approach.
The supervisors are moving towards prohibiting outdoor grows on smaller parcels zoned R-1, R-2 or R-3. However, the county is planning to allow up to six plants to be grown on larger parcels zoned RE-1, RE-2, RE-3, RE-5, RE-10, A-10, A-20 and AE-37.
Or, residents will be allowed to grow six plants indoors, including R-1, R-2 and R-3, with stipulations such as having filtration and installation systems to limit odor, light systems must be fully shielded, and and there can be no generators.
The Tuolumne County Community Resources Agency drafted an initial recommendation, detailed at the beginning of the meeting, that would have allowed anywhere from three plants to be grown on smaller R-1 residential parcels to 12 plants on larger agricultural land.
During public comment, around 40 people gave their opinions. Nearly 70-percent spoke against the draft ordinance and 30-percent were in favor. Many in support spoke about medical benefits of marijuana, and those against talked about crime, children getting the drug, and the impact on community values. Among those in opposition to any outdoor cultivation were law enforcement leaders such Sheriff Jim Mele and District Attorney Laura Krieg and school officials like county Superintendent Margie Bulkin and Summerville Superintendent Robert Griffith.
After the public comment period, the supervisors needed to determine the big question of whether to completely ban or allow outdoor cultivation. District Three Supervisor Evan Royce lobbied for implementing a system to allow for enforcement, including a fee for permits. Ideas included fees ranging from $150-$500.
Marijuana Working Group member Kira Tucker spoke passionately about her personal experience with marijuana and the benefits it has medicinally, while on the counter point, working group member Scott Clamp,  a former CHP Commander, urged the board to move slow, citing first hand impacts of the drug that he's witnessed from a law enforcement perspective.
District Four Supervisor John Gray spoke about the difficulty of legislating values. He said he's personally against recreational marijuana, but feels it is going to be here regardless, citing a billboard of Highway 108 directing customers to a Calaveras County business. He called for a maximum of six plants, indoor or outdoors. He felt banning outdoor cultivation was the wrong path.
District Five Supervisor Karl Rodefer stated he was still conflicted on the issue. He estimated there could be 10,000 illegal marijuana plants in Tuolumne County. He acknowledged there are benefits medically in getting people off opioids, and raised concerns about fire hazards related to indoor grows. He seconded Gray's notion of limiting the number to six outdoor plants.
District Two Supervisor Randy Hanvelt took issue with the idea that marijuana is inevitable, so the community has to deal with it. He raised concerns about it getting into the hands of kids, and irreversible damage it can cause. He stated that his main concern is for medical users and did not care about the needs of recreational users. He added he is open to grows on larger lots, but not smaller. He also supported capping the amount at six plants.
Board chair Sherri Brennan also got behind capping outdoor grows to six plants, with a prohibition on outdoors grows in zones R-1, R-2 and R-3.
The final vote was 5-0. Staff will now take the directive and draft an ordinance that will eventually go to the planning commission, and then back to the supervisors for final approval.
The meeting was aired live on AM 1450 and FM 102.7 KVML. Around 180 people were on hand at the Sonora Opera Hall.