Dead Tree Count Due To Drought, Beetles Hits 129 Million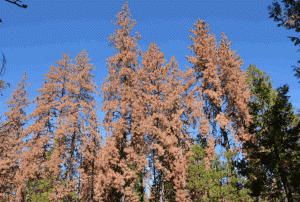 Tree Mortality In Sierra Nevada

View Photos
Vallejo, CA — Staggering new numbers now in from the U.S. Forest Service indicate that 27 million more trees have died since the last count a little more than a year ago.
Officials, who released the data today, say that the total number of trees that have died due to cumulative effects of the state's devastating five-year drought and ensuing bark beetle infestations, now stands at a historic 129 million across 8.9 million acres. They add that these trees continue to pose a fire and safety hazard to people and critical infrastructure, particularly in the Central and southern Sierra Nevada, where the losses are centered.
"It is apparent from our survey flights this year that California's trees have not yet recovered from the drought and remain vulnerable to beetle attacks and increased wildfire threat," states Randy Moore, a regional forester with the U.S. Forest Service, Pacific Southwest Region. He adds that as a result his agency will continue focusing on mitigating hazard trees and thinning overly dense forests so they are healthier and better able to survive.
Moore maintains that in order to increase the pace and scale of this work, changes need to be made in how fire suppression is funded. He points to last year's fire management costs, which consumed 56 percent of the Forest Service's national budget, leaving less for non-fire watershed protection and forest restoration projects that create more resilience to wildfire and drought.
CAL Fire Director Chief Ken Pimlott notes that tree mortality at this magnitude takes ongoing cooperation between public, nonprofit and private entities. Created through the auspices of Governor Jerry Brown's office through a disaster proclamation, the Tree Mortality Task Force (TMTF) continues to do this. Made up of more than 80 local, state and federal agencies, private utility companies, and OES representatives from the ten most impacted counties, it serves to help coordinate and account for ongoing statewide response efforts, including the removal of over 860,000 hazardous dead trees to date.
TMTF members are using what officials describe as a triage approach that first focuses on public safety by removing dead and dying trees in high hazard areas. To further improve forest health the U.S Forest Service and CAL Fire have stepped up the pace and scale of prescribed fire fuel treatment projects. To date, the U.S. Forest Service has treated over 55,000 acres; CAL Fire, more than 33,000 acres.
While addressing record-breaking levels of tree die-off the TMTF is also collaborating on outreach workshops and other related activities. Over $21 million in grants have also been awarded though the TMTF aimed at protecting watersheds, dead tree removals and forest restoration projects.