Prison Fugitive Caught In Sonora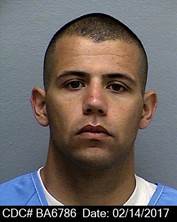 Captured fugitive Daniel Lucas Salazar

View Photos
Sonora, CA – An inmate considered armed and dangerous who has been on the run for three weeks is back behind bars after being apprehended in Sonora
On Friday just after 4 p.m. agents from the California Department of Corrections and Rehabilitation (CDCR) along with Sonora Police Officers and Tuolumne County Sheriff's deputies raided a homeless camp West of the Lowe's store near Highway 108. Inside one of the tents they found minimum-security inmate, 31-year-old Daniel Lucas Salazar. He was taken into custody without incident and transported to Sierra Conservation Center in Jamestown.
As reported here, a revised public notice bulletin with an additional picture and photos of Salazar's tattoos was posted earlier this week. An initial wanted poster was released after his November 3rd escape from the North Kern State Prison by corrections officials advising that Salazar should be considered armed and dangerous. It also stated that he had ties to Sonora and might be hiding out in the area.
Salazar had just five months left on his sentence as he was due to be released in March of next year. He was serving a three-year, eight-month sentence for second-degree robbery and use of another's identification to obtain personal information.  His case has been turned over to the District Attorney's Office to determine if escape charges will be filed.
Regarding prisoner escape statistics in California, correction officials note that since 1977, 99 percent of all offenders who take off from adult institution, camp or community-based program have been caught.