Calaveras Supes Still Struggling Over Latest Draft Cannabis Regs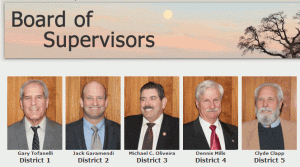 Calaveras County Board of Supervisors

View Photos
San Andreas, CA – The Calaveras supervisors found themselves walking a bit of a tightrope during a special meeting earlier today.
Initially scheduled to hear an appeal of a County Planning Commission's decision to deny an earlier appeal filed on behalf of John Mendoza, a Copperopolis commercial medical cannabis grower-applicant, it quickly became a nonstarter when Planning Director Peter Mauer shared that Mendoza had decided to withdraw his appeal. That news came following a lengthy closed session held by the board to discuss labor negotiations with unions representing county law enforcement, after which there was no news to report.
However much of the meeting still dealt with the hot topic of how the county should proceed with permanent local rules governing commercial marijuana grows. At the beginning of its regular session the board spent about ten minutes hearing a handful of public comments over its latest direction to staff to move from drafting an outright ban that District 4 Supervisor Dennis Mills and District 5 Supervisor Clyde Clapp have been pushing since winning their board seats and instead work on very restrictive regulations.
This sea change came, as reported here, at the supervisors' last regular meeting, when District 1 Supervisor Gary Tofanelli surprised more than a few people by opting to side with District 2 Supervisor Jack Garamendi and Board Chair/District 3 Supervisor Michael Oliveira in a swing vote towards regulating commercial medical grows. However, Tofanelli clearly emphasized in his switch over that several additional and very specific restrictions and requirements would  have to be added for him to give his final buy-in. Among these are banning grows from residential rural zones, which he says are a chief reason for neighbor issues.
Worried Over The Dawn Of New State Laws 
Attempting to ensure that the latest draft rules be ready to review at the supervisors' Nov. 14 meeting, Mills warned the board that time to act was simply running out. He argued that if the supervisors failed to get permanent rules in place by the end of the year, new state laws taking effect in January would leave the county vulnerable to receiving an onslaught of new grow applications.
County Counsel Megan Stedfeld indicated she "respectfully disagreed" with Mills' assessment, stating that the urgency ordinance would still be in effect until February and there was enough time for the board to act. Planning Director Peter Maurer added that the Planning Commission had already reviewed the draft ban and provided input on a regulatory alternative, which legally satisfies its review requirement.
During this exchange, Stedfeld at least twice warned Mills and the other board members that they needed to be careful to avoid discussing matters that were not actually on the meeting agenda. This led to a board poll by Mills to determine if there were any other supervisors in support of pushing staff to ensure that the draft regulatory ordinance would be ready for discussion by Nov. 14.
Garamendi, Tofanelli and Oliveira, after hearing from Maurer and Stedfelt that they would prefer having more time to "get it right," opted to allow the discussion to be calendared into early December. After the poll, Oliveira shared his concerns over hurrying — and perhaps failing to cross all the "t's" and dot the "i's" within the proposed ordinance. He maintained, "We will have the opportunity — I know deadlines have to be met have to do this properly and there is still time to do that."