No Ballot This November For Most Mother Lode Voters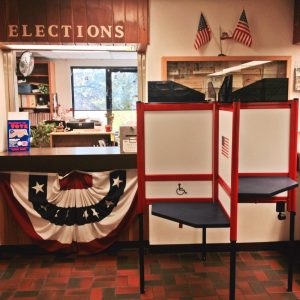 Tuolomne County Election Office

View Photos
Sonora, CA — While last year's Election Day was a doozy this year's is guaranteed to be a snoozer in the Mother Lode. In fact, attempt using it as a leaving-early-from-work excuse to the boss at your own risk.
Although it might seem strange, especially after last November's ballot when we elected a new President and US Senator in addition to several state and local officials, and pored over a long list of measures that included one that would come to legalize recreational marijuana across the state.
Next Tuesday there simply is no ballot in Tuolumne County because there is not a single seat or measure up for a vote. Tuolumne County Assistant Clerk Robbie Bergstrom notes talking with more than a few people — who were unsure if they might perhaps had somehow lost track of the political season — or missed getting their mail-in ballot. Nope. Voter ballots would have otherwise hit the mail during the second week of October.
Asked if the Tuolumne County Elections Office has seen or heard about any recall efforts in the works, Bergstrom chuckles, confiding that while there may be a few grumblings being made no actions are afoot. As for filers for fundraising, he says only State Senator Tom Berryhill, who is terming out of office, has done so far this year as he had been considering a run for the Board of Equalization. As reported here, the senator recently signaled he has decided instead to make a go for the Stanislaus County Board of
Supervisors.
Some Calaveras County Voters To Consider Measure E
While the fall election will be quiet for the most part in Calaveras County, Clerk Recorder Rebecca Turner reminds voters in Mountain Ranch, Sheep Ranch, Glencoe and Railroad Flat of Measure E, the Central Calaveras Fire and Rescue Protection District Parcel Tax, which 2,095 registered voters are eligible to consider.
The measure, if it gets a two-thirds supermajority vote, would levy a $75 tax per land parcel in the district to fund emergency medical and fire services it does not contain an automatic sunset date for the tax. A similar measure on last November's ballot that would have imposed a $96 annual parcel tax was defeated.
As for potential recall activities, Turner confirms that one against District 2 Supervisor Jack Garamendi, as reported here, is still active. She adds that current activities indicate there may potentially be two more getting underway to recall two Calaveras Unified School District trustees: Board President Sherri Reusche, who represents District Area 1, and Board Clerk Dennis Dunnigan, who represents District Area 3.
Turner notes that to date, only Sheriff Rick DiBasilio and District 3 Supervisor Michael Oliveira, the current board chair, have filed to fundraise for the purpose of attempting to retain their respective offices. For Oliveira, his campaign will be for the purpose of seeking a second term. Since the board of supervisors appointed Sheriff DiBasilio to his position back in May of 2016 to fulfill the term of the late Sheriff Gary Kuntz (as reported here), this will be his first time seeking office via a voter ballot.