Update: Winter Storm Watch For The Sierra Nevada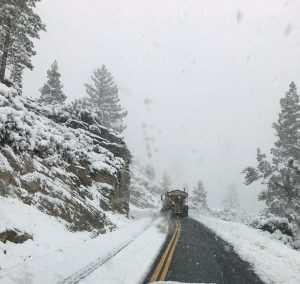 Caltrans plow on Highway 108 Sonora Pass

View Photos
The National Weather Service has issued a Winter Storm Watch for the Sierra Nevada above 6,000 feet, which is in effect from Friday evening through Sunday afternoon.
A Pacific storm is still on track to impact Interior Northern California later today into early next week. Precipitation could begin in the northern mountains this afternoon into evening, spreading across most of interior Northern California on Friday.
The heaviest precipitation and strongest winds are expected Friday night through Saturday.
Precipitation is forecast to wind down from west to east Saturday night. Another system is expected on Sunday.
Rainfall totals will range from half-an-inch to one and a half inches in the Northern San Joaquin Valley and two to four inches in the Sierra Nevada. Rain slick roads can be expected with localized flooding from leaf clogged drains and ash flows around recently burned areas.
Snow levels will be around 6,500 feet Friday evening before dropping to around 5,500 feet by Saturday evening.
Total snow accumulations will range from five inches to two and a half feet above the 6,000 foot elevation.
Wind gusts of twenty to forty mph are likely in the Sierra.
A Winter Storm Watch means there is a potential for significant snow and wind impacting travel. Be prepared for snow covered roads and limited visibilities and use caution while driving.