Angry Man Breaks Into Neighbor's Apartment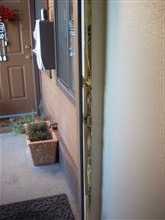 Damage to the victim's apartment door

View Photos
Sonora, CA – A tenant at an apartment building on Chukar Circle in Sonora was shocked to hear pounding and kicking at his door this past Thursday morning.
Tuolumne County Sheriff's officials report a person called 911 sending deputies to the complex to investigate what was reported as vandalism at one of the apartments. Once on scene, a man revealed to deputies that his apartment had been broken into allegedly by 27-year-old BrianTroxell who he feared had intended to assault him. The victim stated that Troxell believed his girlfriend was in the man's apartment. The victim claims Troxell made several threats while repeatedly pounding on his door and eventually kicking it in. He then wedged himself in the doorway and would not let the man leave. Not finding his girlfriend inside, Troxell went back to his unit where Sheriff's officials indicate that deputies took him into custody.
Troxell faces criminal threats and burglary charges with the latter stemming from him allegedly breaking into the apartment and damaging the front door, which can be viewed in a picture in the image box.