Store Parking Lot Perpetrators Nailed For Drugs, Weapons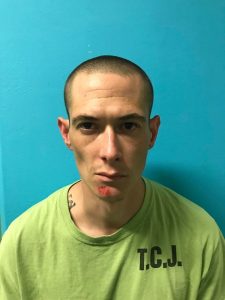 Walmart Parking Lot Arrest Of Justin Brown and Michael Wagoner Oct 27 2017 Sonora PD Photo

View Photos
Sonora, CA — Two men caught casing a shopping center parking lot were picked up by Sonora police on unrelated felony charges early today.
According to Acting Police Chief Turu VanderWiel, just after 1:15 this morning, a wary Sonora Walmart employee called in to report some suspicious subjects looking in and about vehicles in the Crossroads Shopping Center parking lot adjacent to the store, peeking through windows and checking door handles.
"Officers responded, making contact with the two subjects and discovered that one [Justin Brown] had a warrant for his arrest and was in possession of a concealed 11-inch fixed blade knife — and the other [Michael Wagoner], was in possession of heroin and had two warrants out," Chief VanderWiel recounts. The third subject, a female, was released from the scene. No vehicles appeared to have been burglarized.
Both men were booked into the Tuolumne County Jail. Brown was given a total bail of $14,000; Wagoner, $18,000.
Commenting on the incident, the chief shares, "We tell people a lot that if it looks suspicious, it probably is — don't be afraid to call us. We will go out there and check it. That is what we do. If it turns out not to be suspicious, we will be able to determine that when we get there. But many times it results in a situation like this — to where we are able to catch people who are up to no good."