Forest Prescribe Burn Alert Draws Concern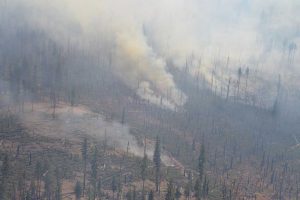 Yosemite National Park Empire Fire

View Photos
Stanislaus National Forest, CA — The Stanislaus National Forest recently posted on its website a notice of its intent to ignite prescribed burns intermittently through next spring in the Calaveras, Summit, Mi-Wok, and Groveland Ranger Districts creating a bit of a fire storm from the public.
Clarke Broadcasting received several calls from concern resident questioning whether it was a good time to burn with the deadly fires in Northern California still active. We reached out to forest spokesperson Diana Fredlund who acknowledged that they also have been fielding calls and emails from nervous residents. She advised this is just a notice to the public that prescribe burns will be under way during that period, but in order to spark a blaze specific requirements must be met to minimize the risk of fire.  Among them: fuel moisture content, winds, temperature and air quality.   "And another thing is that these are mostly piles of timber where they have taken down the hazard trees and they are basically debris piles," stresses Fredlund. She adds, "It's not like a typical prescribe burn like you might have seen this summer where a lightning strike fire has been allowed to continue to burn at a low intensity. These burns are generally a single pile of wooded debris ignited right in that spot with firefighters on scene."
Both hand and machine piles may be ignited, according to Fredlund, who remarks that the number of piles burned daily will vary based on environmental conditions and smoke production. She warns that the public may see smoke in the skies on Highway 120, 4, 108 and also along secondary roads in surrounding communities on days that allow for burning, but asks the public to refrain from reporting them as wildland fires.
Currently, forest fire crews are monitoring five lightning strike blazes sparked this summer that Fredlund alluded to earlier. One of them is the Empire Fire burning east of Glacier Point Road in the Illilouette Basin. The flames kicked up recently causing it to grow to 8,094 acres in size. The blaze is 85 percent contained but producing moderate smoke in the area. The flames path will likely move in the direction of sparser fuels and higher elevations in the coming weeks reducing smoke production, according to Fredlund, who indicates that the fires is visible from vistas along Glacier Point road.
Forest Officials provide this list of trail and area closures:
Bridalveil Campground
Ostrander Trail
Bridalveil Trail
Alder Creek Trail
Mono Meadow Trail
Turner Meadow Trail