Official Cause Of Death Released In Big Oak Flat Murder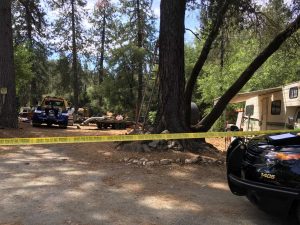 Big Oak Flat Homicide Investigation

View Photos
Big Oak Flat, CA – The official cause of death has been released in the killing of a man at a Big Oak Flat Home.
Tuolumne County Sheriff's spokesperson Sgt. Andrea Benson reports the autopsy, which was performed this afternoon, revealed that the victim, Marc DeJong, died of a gunshot wound to the head. She tells Clarke Broadcasting that toxicology results are still pending and no other details regarding the autopsy findings are being released. As reported here yesterday, DeJong had sustained "multiple gunshot wounds," according to Sgt. Benson.
Arrested for the homicide is 42-year-old Elton Quintin Redick. He was booked into county jail on $1-million bond facing charges of first degree murder, kidnapping and discharging a firearm resulting in a death. Due to the case still being under investigation, Sgt. Benson indicates she cannot release any details related to the kidnapping charge.