Sprucing Up Downtown Jamestown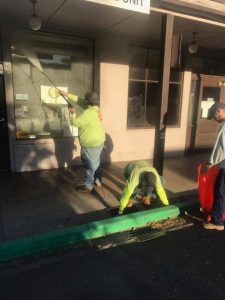 Inmates cleaning and painting the Sheriff's Office Community Service Building in Jamestown

View Photos
Jamestown, CA – There was plenty of activity going on in downtown Jamestown Tuesday as the local sheriff's outpost got a facelift.
Inmates from Tuolumne County Jail used high powered hoses to clean the Sheriff's Office Community Service Building on Main Street and then painted it. Sgt. Andrea Benson shares that inmate crews have been busy throughout summer cutting back overgrown landscaping, picking up trash underneath the Rawhide Road Bridge, and cleaning out a condemned house used by squatters on the corner of Humbug and Main streets. She adds that the cleanup was inspired by a partnership between the county and the business community that formed a watch group after concerns were raised about rising crime earlier this summer. That prompted a Tuolumne County Sheriff's Town Hall Meeting to try to find solutions to some of the problems, as reported here.
Those efforts have shown positive results, according to Sgt. Benson who states, "Different businesses have also stepped up by installing security cameras and additional lighting due to the issues of panhandling, harassing visitors and defacing property in the area and those issues have declined."
There has also been more law enforcement presence in the area. Sgt. Benson notes, "We've also brought in Behavioral Health to work with the people that are maybe having the bad behavior. It's not always just about making an arrest. It's about finding solutions on how we can work together."
The inmates benefits by gaining new trade skills and work experience that contributes towards less recidivism. Click here to read an earlier story detailing the inmate work program.