Inmates At Work Outside Tuolumne County Jail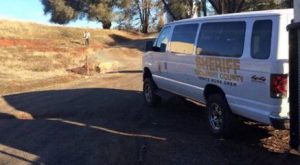 Tuolumne County Jail inmate work crew

View Photos
Sonora, CA – The Tuolumne County Jail outside inmate work crews program is almost a year old — so how is it working?
"So far, we have not had one issue with an inmate out on the streets," notes Work Crew Manager John Fisher. He calls it a great start. Fisher came from Stanislaus County, where he managed work crews for the past 16 years. The program is similar to the Cal Fire hand crews made up of prisoners from the Sierra Conservation Center. The crews, which include eight inmates supervised by two jail deputies, go through a screening process during which Fisher personally runs background checks and interviews. He acknowledges, "Inmates' charges range from…felonies, misdemeanors – I'm not saying they don't have a violent history, but [during] the evaluation that we go through, the violent history is looked at, and if it's an issue, then that person doesn't make it." For their work, the prisoners get four days off a month on their sentence, snacks and extra privileges.
Inmate work crews tackle jobs that include forestry work; bear box installations; tree, brush and trail clearing; tree planting; woodcutting; landscaping; park and cemetery maintenance; building maintenance; painting; litter pick-up; limited construction, including fence building; and other projects for government and nonprofit organizations. Over this past winter holiday break, prisoners built fencing and greenhouse tables for the Future Farmers of America (FFA) at Summerville High School. Recently, senior citizens in the community received firewood, cut by the inmate crews.  (View photos of both projects in the upper left-hand box.)
Fisher says, among the agencies that have contracted the crews, are Caltrans; United States Forest Service; surrounding area Fire Councils; Sonora Unified School District; Mother Lode Fairgrounds; Sonora City Fire Department; Tuolumne County Fire Department; and Columbia and Pine Mountain Lake airports. In those cases, the earned funds go towards expenditures and the work crews' supervisor pay. The rest of the funding comes from the state, through AB109 monies. Fisher stresses there is no cost to the county and touts, "We tracked the savings last year and for the fiscal year we saved the county over $79,000 dollars in labor costs. We put up the justice center fence, which took nearly eight weeks to complete and was labor intensive. If a private company had come out and done that, it would have been about $50,000."
The program's success has broadened this year to include a new female work crew, consisting of one deputy and four female inmates. Their trained will be in garden/nursery. The inmates will grow vegetables for jail meals with all excess food donated to community charities. In the nursery, prisoners will grow shrubs, plants and trees for the new Tuolumne County Justice Center. The crews will also help with the Rim Fire Reforestation Project; growing 5000 Pine Trees for planting next year.
The ultimate goal, according to Fisher, is to give back to the community. He says the inmates learn specialized skills and a work ethic that will increase their productivity when released back into the community; hopefully reducing recidivism. Already, Fishers reports of the 39 prisoners involved in the crews, only six have returned to jail, while several others have found jobs in the community.