"The Other Kids" Coming To Tuolumne County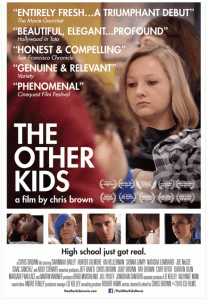 The Other Kids Movie Poster

View Photos
Sonora, CA — A feature film shot in Tuolumne County, which has garnered some glowing national reviews, will be shown in November at Summerville High School.
We reported last year that The Other Kids is a blend of fiction and non-fiction, where real-life students played versions of themselves in a constructed, fictional universe. San Francisco based director Chris Brown began auditioning Sonora and Summerville high school students for the film in late 2012 and shooting commenced in 2013, utilizing both high schools, and other sites throughout the county.
Brown tells Clarke Broadcasting, "None of the kids were professional actors. And another unorthodox aspect of the project is that we shot without a script, so all of the students and cast members were co-creators of the film and their characters. They had sort of an unprecedented degree of creative control and drew on aspects of their own lives, and other people's lives, making it something that was heartfelt and real."
The local actors featured in the film include Savannah Bailey, Hunter Gilmore, Kai Kellerman, Sienna Lapi, Natasha Lombardi, Joe McGee, Isaac Sanchez, Baylee Self and Abby Stewart.
Brown has been showing the film at various festivals over the past year. A snapshot of the accolades include winning the Grand Jury Prize at the Florida Film Festival, Best Narrative Feature at the New Orleans Film Festival, Audience Award/Best Narrative Feature at the San Francisco Independent Film Festival, Indie Spirit Award at the Naples International Film Festival and El Rey Award For Excellence in Dramatic Narrative at the Barcelona International Film Festival. It has also garnered positive reviews from outlets such as the trade publication Variety, the Huffington Post and the San Francisco Chronicle.
Brown adds, "We were totally psyched (by the response). It's kind of a new thing (style), and not a normal film, so you don't know how people are going to respond. It was heartening to see that it touched people."
The local showing is open to the public and being organized by the ITSA Film Festival and Tuolumne County Film Commission. It will be November 4th, from 6-9pm, in the Summerville High School Theatre. All net proceeds from the event will benefit the Tuolumne County Arts Alliance and the Yes Partnership.
Brown concludes, "Bringing the project home to Tuolumne County is so meaningful for us. This project started a few years ago, and the gesture of the film won't be finished until we bring it home. We can't wait."
Cast and crew members are planning to be in the audience during the local screening.
Tickets are available in advance for $10 by clicking here. Tickets will also be available at the door for $15.