Sonora Film "The Other Kids" Hitting Festivals Across Country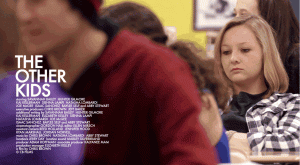 The Other Kids Promo

View Photos
Sonora, CA — A highly anticipated film shot in Tuolumne County, featuring local students, is starting to make the rounds at film festivals.
"The Other Kids" is directed by San Francisco based filmmaker Chris Brown. It follows high school students in Tuolumne County and is designed to be a blend of fiction and nonfiction, where real students play versions of themselves in a constructed, fictional universe. The genre is referred to in the industry as a "fictumentary."
"The Other Kids" successfully had its world premiere at the Cinequest Film Festival last month in Silicon Valley.  "They screened the film three times, and then awarded it with a fourth encore screening," Brown tells Clarke Broadcasting. "There was so much demand for the premiere that they kept bumping us to bigger and bigger theaters," he adds. "It was an amazing festival run. Now we are just looking to bring it across the country and to the world."
Brown started auditioning Sonora and Summerville High School students in late 2012 for the film, and shooting began in 2013.
The stars of the film, who were juniors and seniors at the time, are Savannah Bailey, Hunter Gilmore, Kai Kellerman, Sienna Lampi, Natasha Lombardi, Joe McGee, Isaac Sanchez, Baylee Self and Abby Stewart.
Brown, who grew up in the Bay Area, chose Sonora as the filming location because his grandparents had a cabin in the area, and he grew a fondness for the community.
Brown says he hopes the film will encourage more people, especially younger ones, to tell their stories. He adds, "I hope young people will realize that what they are going through is important, and they are not alone in what they are struggling with. A lot of strength can be gained by just being honest about it and sharing their stories. Chances are if you're feeling it, about a million other people are feeling it, or have felt it."
Brown also wants to challenge the tradition sense of filmmaking. It was shot without a set script, and the actors were given freedom to explore the characters.
"There's sort of an industrial model that we've all been following for about a hundred years, and it has sort of worked," says Brown. "But, I think features tend to be kind of boring and formulaic right now, and I think we need to rethink the stories we tell, and the ways we tell the stories. The goal [of the project] was to find amazing, dynamic people and develop the story with them."
The film itself is over 90 minutes. Brown credits several local entities for helping to make the project a reality and offering support. Among others, these include Sonora and Summerville High Schools, Tuolumne County Arts Alliance and Stage 3. Plans are in the works for a local premiere in Tuolumne County later this year.
Click here to view the trailer.