Feel An Earthquake Near Tuolumne?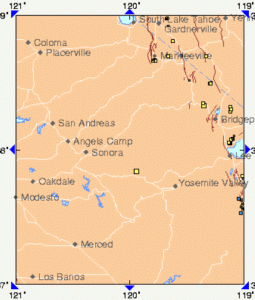 Earthquake Location (Yellow Box)

View Photos
Tuolumne, CA — The U.S. Geological Survey reports that a 2.4 magnitude earthquake occurred early Monday morning in Tuolumne County.
The epicenter, with a depth of 2.5 miles, was located 19 miles southeast of the community of Tuolumne, 20 miles southeast of Soulsbyville and 21 miles northwest of Yosemite Valley. It occurred at 4:13am.
Referencing the Richter Scale, developed at the California Institute of Technology, a 2.4 magnitude quake is considered minor. It can often be felt by some people, but does not result in damage to buildings or structures.