Governor Signs Law Designating Official Dinosaur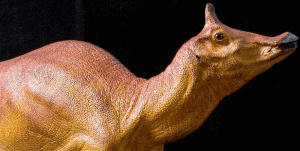 Augustynolophus morrisi

View Photos
Sacramento, CA — California Governor Jerry Brown has signed a bill declaring the Augustynolophus morrisi as the state's official dinosaur.
The legislation signed over the weekend notes that it was a unique creature and found only in California. The species is a type of hadrosaur known for having mouths shaped like the bill of a duck. The author of the legislation, Democrat Richard Bloom of Santa Monica, argued that it will help inspire young Californians to become interested in paleontology and other scientific fields.  Specimens of Augustynolophus were located in the late 1930's in the Moreno Shale Formation of the Panoche Hills in Fresno County.
California becomes one of eight states to designate an official dinosaur.
California earlier declared the state animal as the California Grizzly Bear, the amphibian the California Red-Legged Frog, the bird the California Valley Quail, the mineral gold, the flower the California Poppy and tree the California Redwood.