Traffic Alert In Calaveras County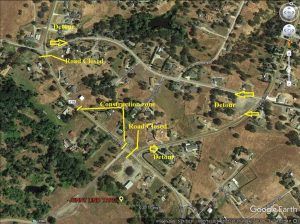 Jenny Lind Road closure in Jenny Lind

View Photos
Valley Springs, CA — A section of a main roadway will be closed one day next week in Valley Springs.
Jenny Lind Road will be shut down between Mann and Baldwin streets next Friday (Sept. 29) so crews can make needed emergency culvert repairs, according to Calaveras County Public Works officials. Road crews will be doing the work from 7a.m. and 3:30 p.m. During that time, that span will be closed to all traffic.
Motorists will find detour signs directing them to take either Mann or Baldwin streets to get around the work. Drivers are asked to slow down and use caution around the cone zone areas.