Name Of Pickup Driver Released On HWY 49 Crash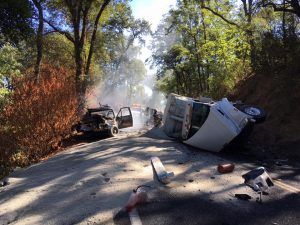 Highway 49 crash at Springfield Road 9-20-17

View Photos
Sonora, CA — The CHP has released the name of the woman driver involved in the fiery wreck that shut down highway 49 at the Springfield Road intersection for several hours yesterday.
She has been identified as 45-year-old Renee Ilene Hogan of San Andreas. She suffers from burns and is still in critical but stable condition at UC Davis Intensive Care Unit, according to CHP Officer Faustino Pulido.   As reported here, Hogan was driving a Ford F250 truck southbound on the highway when for unknown reasons she crossed into the path of a northbound Peterbuilt dump truck, driven by 57-year-old Larry Robinson Jr. from Modesto. The vehicles hit head-on with Hogan's bursting into flames and the dump truck overturned, spilling its load of sand and blocking the highway. Robinson Jr. sustained minor injuries in the wreck.
Of note, last year during another driving incident, as reported here, Hogan was arrested after it was determined that she had been driving on a wheel rim causing sparks which allegedly ignited the 450 acre Willow Fire in the San Andreas area that destroyed one structure.