Update: Arrest Made For Igniting 450 Acre Willow Fire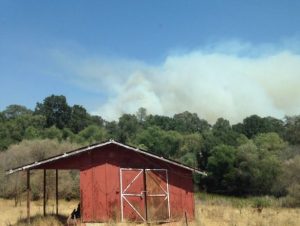 Willow Fire
Update at 8:35am: The CHP has released more details about the arrest of Rene Ilene Hogan who officials say ignited multiple small fires that led to the 450 acre Willow Fire. She was driving her vehicle eastbound on Mountain Ranch Road during the one o'clock hour yesterday afternoon.
The CHP report states, "For an unknown reason the right rear tire became flat and the rim was in contact with the roadway while she was driving.  The rim was causing a shower of sparks that was igniting the grass shoulder of the roadway.  A witness behind Hogan attempted to gain her attention, however, she would not stop her vehicle.  The witness eventually drove around Hogan and used his vehicle to stop Hogan by blocking the roadway.  He contacted Hogan who did not appear to know that her vehicle was disabled.  Due to the fires, Hogan's vehicle was also catching fire.  The witness pulled Hogan from the burning vehicle.  After an investigation by CHP, Hogan was arrested for driving while under the influence of a controlled substance and driving with a suspended driver license.  A Drug Recognition Expert determined that Hogan was under the influence of a Narcotic Analgesic and Cannabis at the time of the incident. CAL Fire investigators conducted their own investigation and added additional charges related to the fire."
The CHP reports that Hogan does not have a permanent address, but had recently been seen residing in the West Point area.
The Associated Press indicates that she also previously resided in southern California.
The fire is now considered 30% contained and it is holding at 450 acres.
Original story posted at 5:20AM: San Andreas, CA — CAL Fire and law enforcement officials determined that a vehicle driving on Mountain Ranch Road in San Andreas sparked several fires that eventually merged to create the 450 acre Willow Fire.
The CHP arrested Renee Hogan at the eastern most fire, which also burned her vehicle. She was initially arrested for driving under the influence of drugs. Upon further investigation, she was arrested for causing a fire that resulted in a structure burning, seven counts of causing a fire to forestland or a structure, and one count of committing a violation during a declared state of emergency. Hogan was reportedly driving on the right rear rim of a 2002 Kia which ignited the fires. No other specifics about the incident have been released at this time, and the investigation is ongoing.
The fire has burned 450 acres and is 15% contained. To view details of yesterday's fire growth, click here. All evacuation orders related to the Willow Fire have been lifted.