Tuolumne County Tightening Marijuana Regulations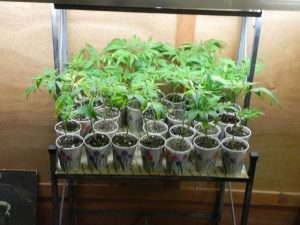 Marijuana Plants

View Photos
Sonora, CA — Following a lively debate, the board of supervisors plan to reduce the amount of marijuana a resident can grow, medical or recreational, and banned all outdoor growing.
The action came as many of the supervisors indicated that they are getting complaints about large marijuana grows popping up in neighborhoods.  Tuolumne County's existing rules, specifically on medical marijuana, have allowed for a patient or primary caregiver to grow up to 12 marijuana plants outdoors or 24 plants indoors. If two or more patients or caregivers reside on a parcel, the cap increases to 24 outdoor plants.
This morning the supervisors voted 4-1 to direct staff to draft an ordinance to ban outdoor growing entirely and allow residents to grow a maximum of six plants indoors, regardless of whether it is for medical or recreational use. In addition, landlord consent will be required for any growing.
District Three Supervisor Evan Royce was the lone vote in opposition to the change. He proposed to have outdoor grows be registered, and subject to a permit fee, so that the county knows where legal grows are located, and create a funding mechanism for enforcement of larger illegal commercial operations. Royce stated, "If we just say no, let's outlaw this (outdoor growing), you're still going to have people doing this, and your still going to have neighbors (complaining), and we're still not going to have money to deal with it. It's a naïve way to do it."
District Five Supervisor Karl Rodefer and District One Supervisor Sherri Brennan spoke adamantly against outdoor growing, and the need to protect other residents. District Two Supervisor Randy Hanvelt added, "Here's the problem with an outdoor grow…there are a number of people, I know there is one in this room and I know others, that have some type of physical reaction, perhaps an allergy, just to the odor of it.  We owe it to those people, to protect them."
During public comment one person spoke in favor of allowing outdoor growing and two people raised concerns.