Thieves Hit Sonora Carwash And Rip Cash Kiosk From Stand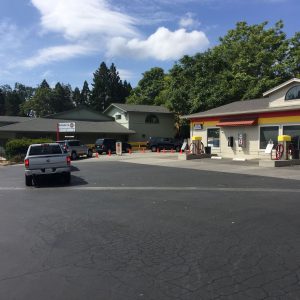 Sonora Express Carwash
Sonora, CA – Clarke Broadcasting learned of the theft from several concerned citizens who went to the Sonora Express Carwash on Pesce Way off Highway 49 to clean their vehicles and found a closed sign at the entrance.
Inquiries to Sonora Police Department (SPD) confirmed that the businesses' had been hit by two white men driving a dark blue Chevy Tahoe around 4 a.m. Wednesday.
The manager of the carwash, Trevor Cornish, shares that surveillance video shows how the crime unfolded, "On Tuesday night they decided to come in and cased the joint to see what they had to do to get the whole cash machine out. Then Wednesday morning they came an actually hooked a cable around the whole cash machine and ripped it right out of the ground and then loaded it in their Chevy Tahoe and took off."
SPD Sgt. Tim Wertz elaborates on the theft costs, "Along with the five to eight thousand dollars in cash, it's about a $15,000 machine and then from the surrounding area there's about another $1,500 worth of damage to the electrical equipment, plus the loss of all the business."
Cornish puts the figure around $25,000 to $35,000 as the business was forced to close all day Wednesday and reopened around 10 a.m. today. Due to the machinery needing to be operated manually by an attendant, he says the car wash will be open from 9 a.m. to 5 p.m. until next Friday (Sept. 22) the date they have targeted to be up and running 24/7 again.
Sgt. Wertz reports that the investigation is ongoing and anyone who may have witnessed the crime is asked to call the Sonora Police Department at 532-8141.