Public Asked To Help Design $16 Million Community Resilience Center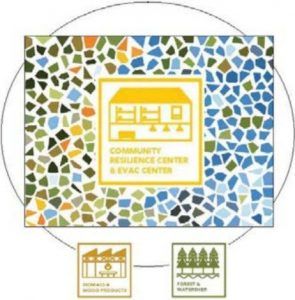 CA-TC NDRC Application Logo

View Photos
Sonora, CA — After winning an almost Cinderella-like, multi-million dollar grant last year to build resiliency against natural disasters Tuolumne County officials are seeking residents' ideas for building related resources.
According to County Deputy CAO Maureen Frank, the project lead, a roughly $19 million chunk of the funding is being allocated to conceptualize, design and build one or two community resilience centers that will handle a range of functions from emergency response and evacuation to recovery and redevelopment programs, classes, activities and events.
"More than just a community center, it is a living, breathing building that will provide services 365 days a year," Frank enthuses. "We went through the Rim Fire and are going to have other major emergency events. So how do we bounce back from those events – what kinds of tools and assets did we wish we had during the Rim Fire…either during or after, and how could these buildings help us?"
Tuolumne County and the State of California received official word back in January of last year that the state's post Rim Fire recovery oriented application on behalf of the county had won one of 13 national Natural Disaster Resiliency Competition (NDRC) funding awards, of which roughly a third was allocated for a resiliency center project. It took over a year for the state to hammer out agreements between it and HUD as well as several partnering agencies. In May, the county and state signed off on an agreement allowing county staff to begin working in earnest on the center project and begin public outreach.
Outreach Efforts Now Rolling Out 
Following an RFP process the county contracted with Cox Consulting to assist Frank with paperwork, reporting requirements, data and document management. Last month, after conducting an RFQ, Sacramento-based Lionakis Architects was chosen to assist with community engagement and put together a program document. The firm is already working with the state on the county courthouse project as well as with the county on its new jail.
At an August board meeting the supervisors confirmed an organizational structure for the project's advisory team to assist Frank and provide guidance. Among its members are community service stakeholders such as ATCAA and Area 12 on Aging; the county chamber of commerce and superintendent of schools office; Sonora Area Foundation; and representatives from the Groveland and Tuolumne City communities.
"We will be talking with them next week…beginning programming documents and soliciting overall general ideas," Frank shares. That meeting will take place in the supervisors chambers next Wednesday from 1:30 to 4 p.m. It will be followed up by an Oct. 17 meeting at the same place and time that will additionally involve a range of interested operational stakeholders, aka area service providers.
A series of three public meetings are scheduled after that to occur at three locations in Groveland, Tuolumne City and Sonora, where findings and ideas from the previous two meetings will be presented and the public will be queried for their feedback and input. Frank poses her approach as something like this: "Here's is what we heard from the stakeholders…operational people. How does it sound to you? What do you see? Did we get things right…should they be changed? Should we add this or that? What are you thinking about as far as services and programs in these centers?"
Aiming To Create A Bona Fide Community Vision 
While Frank certainly has her own ideas for the center or centers, she is choosing not to promote them as part of the engagement process. "I mean, what a unique opportunity for this community to come out and really design their own building," she emphasizes. "I am excited about it….as a community member, wow you are asking me what I want — and how I want this — and what do I see as the needs in my community. I think that sometimes in government we forget that and don't do a good enough job about it. But I am trying to change that and really get [residents] engaged — and I hope that people come out and really want to be a part of this."
Due to its collaborative by design process and governmental red tape Frank estimates that it will take two years or so to get to breaking ground at one or two locations that still even need to be identified and chosen. However, conditions of the funding require them to be complete by mid 2022.
So, she is encouraging the public to attend one or more of the following meetings and bring their ideas. The public meeting schedule is as follows:
— Tuesday, Oct. 17 from 6 to 8 p.m. at Groveland Community Hall
— Thursday, Nov. 2 from 6 to 8 p.m. at Tuolumne Memorial Hall
— Tuesday, Nov. 14 from 6 to 8 p.m. in Sonora at the board of supervisors chambers
.