Mother Nature Sparks Light Show On The Forest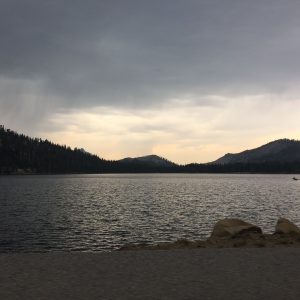 Stormy skies over Tenaya Lake in Yosemite
Sonora, CA – Did you catch Mother Nature's lightning display over the past couple of days.
Video in the image box shows some of the flashes over Sonora on Monday night. Stanislaus National Forest officials report that more than 1,250 lightning strikes were recorded in the central Sierras, including Yosemite National Park and Stanislaus, Sierra and Inyo national forests. The show could go on through Friday, with a warming trend into the weekend, according to Forest Service spokesperson Diana Fredlund. She adds, "It's likely that there's a few single tree fires that were started from the lightning but because of the location in the high country they are less likely to become something more than a single tree fire. But, that's why we are keeping a good close eye on any of the fires that we have burning."
Fredlund adds that fire officials continue to assess all blazes and prioritizes suppression efforts with those fires posing the highest potential risk.  Additionally, aircraft continue to do recon flights to locate any new fires.
The Forest Service provides these safety measures:
Lightning: What You Need to Know:
NO PLACE outside is safe when thunderstorms are in the area!!
If you hear thunder, lightning is close enough to strike you.
When you hear thunder, immediately move to safe shelter: a substantial building with electricity or plumbing or an enclosed, metal-topped vehicle with windows up.
Stay in safe shelter at least 30 minutes after you hear the last sound of thunder.
Indoor Lightning Safety
Stay off corded phones, computers and other electrical equipment that put you in direct contact with electricity.
Avoid plumbing, including sinks, baths and faucets.
Stay away from windows and doors, and stay off porches.
Do not lie on concrete floors, and do not lean against concrete walls.
Last Resort Outdoor Risk Reduction Tips If you are caught outside with no safe shelter anywhere nearby the following actions may reduce your risk:
Immediately get off elevated areas such as hills, mountain ridges or peaks
Never lie flat on the ground
Never shelter under an isolated tree
Never use a cliff or rocky overhang for shelter
Immediately get out and away from ponds, lakes and other bodies of water
Stay away from objects that conduct electricity (barbed wire fences, power lines, windmills, etc.)