South Fork Fire 47 Percent Contained, Empire Fire At 55 Percent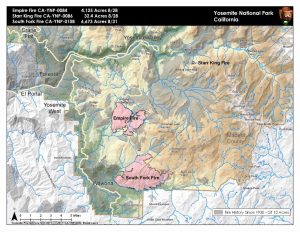 South Fork, Empire Fires-Sept 1 2017

View Photos
Sonora, CA — The latest details from Yosemite Fire Incident officials have the South Fork Fire sized at 6,705 acres and the Empire Fire at 4,350 acres.
Fire officials say the acreage of the South Fork incident, which ignited Aug. 13 near Wawona and has not yet positively been confirmed as lightning-caused, was reduced due to more accurate mapping. They also report that fire activity was most active yesterday on the north and east flanks as it burned into scattered heavy pockets of fuel.
While south and west flanks are contained some smoke and glow at night will be visible from Wawona as logs and brush burn in the interior. Since hot and dry weather conditions will prevail through the weekend the fire is expected to be more active on the north and east flanks.
Plans are for crews to continue patrol and mop-up along the flanks closest to the community of Wawona and Mariposa Grove and tie containment lines into natural features on the north end of the fire as well as hold and secure the handline from Chilnualna Creek south towards Wawona Dome. Bucket work will be continued as needed on the fire's southern boundary.
Sections of the north flank and the entire east flank are continuing to burn in the wilderness, and will be monitored by aircraft due to inaccessible and steep terrain. As fire burns into the high country wilderness it will actively burn through pockets of dense vegetation but will then slow as it progresses into sparse vegetation and natural granite barriers.
Latest Empire Fire Details
Located within a mile of the Yosemite Ski and Snowboard Area and less than a mile from Glacier Point Road, the lightning-caused Empire Fire, which has been burning since Aug. 1, showed growth on its east flank yesterday with some spotting near Ostrander Ski Trail although fire activity was moderated due to shading from smoke caused by the Railroad Fire (for the latest on that incident, click here).
Fire officials explain that crews are implementing a perimeter control strategy for the north, west, and southern flanks to protect Bridalveil Campground, Yosemite Ski and Snowboard Area, Yosemite West subdivision, Wawona Road/Highway 41 and Glacier Point road and report that the north and west flanks are contained and holding.
Crews tied the south flank into natural barriers and will continue to hold and monitor. The east flank is being allowed to move through the wilderness area towards the Illilouette basin.
Glacier Point road is closed due to active fire near the road and conditions are still being assessed as to when the road can reopen.
To view today's fire maps, click into the image box slideshow.