Forest Officials: Use Extreme Caution Late This Fire Season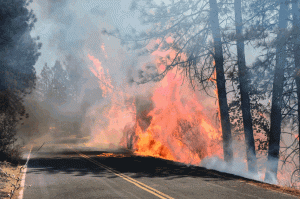 Murphy Fire

View Photos
Sonora, CA — Bonfires, unattended campfires, poorly maintained vehicles and lightning strikes are all big concerns as we head into the final, often most dangerous, stretch of the fire season.
Specifically, officials with the Stanislaus National Forest are asking for the public's help heading into the Labor Day holiday weekend, and continuing over the next several weeks.
Dave Updike, Stanislaus National Forest Fire Management Officer, says, "Late August, all the way through September, is historically the time when the Stanislaus experiences the large scale fires. We'd really like to get the message out that unattended campfires, in unpermitted areas, are the ones that we are really fearful of this time of year. We have brought in extra engines and extra fire personnel from other forests to get us through this upcoming holiday weekend."
Also of concern, Updike notes that around 2,000 lightning strikes have occurred in the forest since early August, resulting in 30 fires that are currently being monitored and/or suppressed in the forest. Some of the new strikes occurred just last night. Most of the lightning fires are in the very high elevations, north of Pinecrest, in isolated areas. The most notable incident is the 452 acre Douglas Complex Fire.  
Updike adds, "We're currently splitting resources up so there are some down in the front country, while also taking care of all of the fires up in the Summit Ranger District."
Molly Day, Forest Service Fire Prevention Technician, says a formula they refer to as the "probability of ignition," is currently reading 100-percent. In short, she says if you threw 100 lighted matches into the grass or brush on the forest, all 100 would currently ignite a vegetation fire. This often occurs during the peak of fire season.
Day adds, "Right now, things will ignite with any kind of spark source. The other day we had the Murphy Fire (on Cottonwood Road), and that was a roadside start, probably something along the lines of an un-maintained vehicle. It could have been a spark from chains dragging, which is a very common cause of fires. We have so much grass on our roadsides that just one single spark can get something started, established, and moving. People need to be extra diligent until we get a season ending event, which is basically an inch of rain."
Stanislaus National Forest spokesperson Diana Fredlund adds that there are also significant concerns about bonfires that often occur in the forest after high school football games this time of year, presumably started by students. One of which was located early Saturday morning in the Mt. Elizabeth area. "We just really want them to understand that the smallest misstep, when it comes to fire, can put the forest at danger. They all live in the community, and I know they love the forest as much as we do, so we really want them to think twice about it."
Among the historically large fires that have ignited in the Mother Lode, the 2013 Rim and 1987 Stanislaus Complex both occurred in mid-to-late August, and the 2015 Butte Fire, not on Forest Service land, started in mid-September.