Douglas Complex Fire In Forest Increases In Size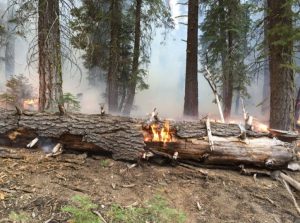 Douglas Fire

View Photos
Tuolumne County, CA — The Douglas Complex Fire burning in the Stanislaus National Forest is up to 452 acres and there is no containment.
It is three separate nearby lightning caused fires that ignited on July 31st. Forest Service officials have been allowing them to burn out naturally where possible. There are 122 firefighters assigned to the overall incident. Roads are being prepared for backfiring operations that are planned to control and slow the spread. Some aerial ignitions are also planned in an effort to clear out the fuels in the path. The three fires making up the Douglas Complex Fire (Douglas Fire, Willow Fire and McCormick Fire) are south of the Douglas Picnic area off Highway 108, north of Forest Road 6N06 and west of Groundhog Meadow in the Hammill Canyon Loop.
Click here to view a map of the Douglas Complex Fire
The Forest Service reports visitors must remain outside the following areas: Road 6N40Y, starting 300 feet south of its intersection with the Middle Fork of the Stanislaus River and continuing approximately 1.5 miles to the southwest; and all areas within 0.5 miles south and southeast of the 6N40Y road closure. All visitors must remain outside the fire perimeter on all fire locations. No other closures or evacuations are in effect.