Honoring And Celebrating Sgt. Pershall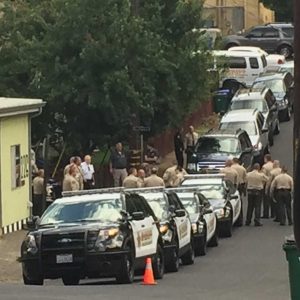 Caravan Lines Up At Tuolumne County Sheriff's Office In Sonora
Sonora, CA — A local law enforcement caravan left this morning headed towards a ceremony that will honor the life of a former Tuolumne County Sheriff's deputy.
We sadly reported earlier that Modesto Police Sgt. Michael Pershall was killed after his bicycle was hit by an alleged drunk driver on August 22nd. The incident occurred near his Modesto neighborhood on Merle Avenue. He was off-duty at the time. Pershall was a Tuolumne County Sheriff's deputy from 2008 to 2012 before leaving for the Modesto Police Department.
Following his death, Tuolumne County Sheriff Jim Mele stated, ""He was very well loved — and not just liked — Mike was a very caring young man, loved to do police work, was a member of the SWAT Team…he just enjoyed life."
In the video posted you can see members of the Sheriff's Department leaving Sonora this morning for the celebration of life service scheduled for 11am  at Modesto's Cross Point Community Church at 1301 12th Street. The service is open to the public.
Sgt. Pershall leaves behind a wife, and two children, ages 16 and 10.