'Come Together' Event Helps Pump Up Deflated Meals On Wheels Wallet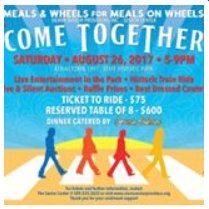 Meals On Wheels 11th Annual Fundraiser poster 2017

View Photos
Sonora, CA – Inspired by increased critical need for program dollars in the wake of federal budget cuts, this year's local Meals On Wheels fundraiser turned out to be a record-breaker.
Committee chair and Black Oak Casino Resort CEO Ron Patel shares that the shindig, held this past Saturday at Railtown 1897 State Historic Park with a Beatlesesque theme of "Come Together," was by far the most successful of 11 annual fundraisers held to date. Over the past ten years the annual event has raised over $750,000 for Meals On Wheels.
Although receipts are still being tabulated against event expenses, Patel chalks up the successful results to healthy participation in event sponsorships before the event as well as live and silent auctions along with raffles and drink sales; not to mention the advance sell-out of 500 attendance tickets that included dinner catered by Black Oak Casino's Seven Sisters restaurant.
Since the event was already sold out before the doors even opened that night Patel enthuses, "We knew it was going to be a great night. But in addition…we did a reverse auction with a car from Sonora Ford/Sonora Subaru and we bought outright a new…delivery vehicle for Meals On Wheels."
Pushing Towards A Triple-digit Total
Even though the final tally is not yet in Patel confides, "After expenses, we know it is going to be a record amount in excess of $90,000 for the program — plus we bought a $22,000 vehicle and [had] a few thousand left over on that as well — so it has turned into the most successful outdoor event in the county, in terms of fundraising."
Noting that locally, the Meals On Wheels program took a $115,000-plus hit from reduced federal funding, Patel says even if the total net manages to top $100,000, there is still a $100,000 shortfall within the program's operating budget of $500,000 for the next year. "Once we do the final numbers, the more we can chip away at that budget deficit, the better for the program," he states.
In addition to all who contributed to the event's success, Patel gives a special shout out to Sonora Ford/Sonora Subaru owner Manuel Prieto for his part in providing three vehicles towards the efforts.
To qualify for home-delivered meals, a person must be at least 60 years of age or older or the spouse of an age 60-plus participant who resides within the service area and has an impairment that would prevent attending congregate meals. Intake workers determine eligibility via a home visit assessment. For more details call Area 12 Agency On Aging at 209 532-6272. The organization works in partnership with Sierra Senior Providers (SSP) to deliver the program.