Late August Heat Has Potential To Beat Local Weather Records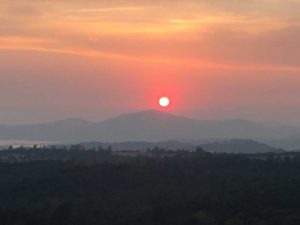 Sunday Sunset In Mother Lode Before Eclipse

View Photos
Sonora, CA — Unleashed and languidly ambling alongside us like a well-trained canine, those "dog days" of summer are — doggone it — possibly creating more weather conditions for the local record books.
As National Weather Service Sacramento Bureau meteorologist Mike Kochasic shares, "We have an anomalous high pressure system that you usually see in the mid "dog days" of summer — and it is pretty late for a strong high pressure to be set up like this across northern California — but we are expecting temperatures in the 100's through this week and the records…will be very, very close to breaking or tying."
He adds that as far as a potentially record-setting stretch of 100-plus degree days in the month of August, this past weekend accrued two on the scoreboard and the forecast portends that more are forthcoming through the Labor Day holiday weekend. However, it is probably safe to say that few Sonorans are pining to endure what it would take — a 14-day run of century mark-plus heat recorded back in 1967 — to at least tie for those bragging rights.
Although we will not officially know until it is officially confirmed on Tuesday, Sonora seems like it stands to break an Aug. 28 record of 108 degrees set back in 1944. If it hits 105 on Tuesday it will at least tie an Aug. 29 high temperature record set in 1950. By the way, for those looking to measure, the Aug. 30 benchmark of 104 was set that same year and the Aug. 31 record of 105 degrees was hit back in 1987.