Forest Monitoring Three Lightning Strike Fires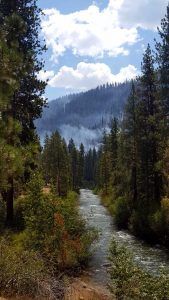 Douglas Fire burning in Yosemite

View Photos
Sonora, CA –Forest Service officials call three lightning fires burning on the Summit Ranger District in the Stanislaus National Forest an opportunity to restore a natural fire cycle in the forest.
Forest spokesperson Diana Fredlund says, " Last week's thunderstorm activity led to numerous lightning strikes in the surrounding area causing several new small, mostly single-tree fires and an prompted an increase in fire personnel to monitor the blazes both by air and ground when firefighters could access the site."  One of the fires is the Douglas Fire which is around 163 acres burning south of the Douglas picnic area on Highway 108, as earlier reported here.
Forest officials provided this update on the three fires:
Douglas Fire:
Location: South of Douglas Picnic Area and Eureka Valley Campground on Hwy 108, west of Sonora Pass. The past week's total rain accumulation is 1 inch in the fire area. The fire perimeter has remained nearly the same.
Stanislaus National Forest closure order, STF-16-2017-06, is in effect for public safety. Visitors must remain outside of the following areas: Road 6N40Y starting 300 feet south of its intersection with the Middle Fork of the Stanislaus River and continuing approx. 1.5 miles to the southwest; and all areas within 0.5 miles south and southeast of the 6N40Y road closure. No other closures or evacuations are in effect.
McCormick Fire:
Location: North of the 6N06 Rd., northwest of the Fence Creek Campground, and east of the County Line Trail in the Carson-Iceberg Wilderness. The fire started Aug. 18th, is approximately 4 acres, and is burning in red fir with patches of manzanita and chinquapin on a south facing slope. It's visible from Hwy 108, near Donnell Vista.
Willow Fire:
Location: West of Groundhog Meadow and 4N12 Rd. in the Hammill Canyon Loop. The fire started Aug. 18th and still is approximately ¼ acre. It is burning in red fir and lodgepole pine on a ridge with moderate slopes.
Fredlund says fuels are expected to dry and become more flammable as temperatures heat up, followed by an expected minimal to moderate growth in fire activity and smoke in those areas. For  a map of all the lightning fires in the forsest,  click here Summit District Aug Lightning Fires map.
A special thanks to our community partner S.M.Neveau for sending in a photo.