Inmate Caught Red Handed With Contraband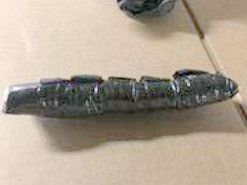 Contraband found outside Tuolumne County Courthouse

View Photos
Sonora, CA — A sting set up at the Tuolumne County Courthouse helped drug enforcement agents catch a prisoner retrieving contraband left hanging from a railing.
A court bailiff spotted the dangling item Friday afternoon, seen in the image box, outside of the courthouse in Sonora by the parked Tuolumne County Jail's transport van and tipped off the Tuolumne Narcotics Team. Sgt. Andrea Benson reports, "The item appeared to be contraband that was attached on the railing in an attempt to have an inmate retrieve it and bring it back into the jail population."
Detectives decided to stake out the area to see if anyone would try to take the object.  A short while later, 23-year-old inmate Kyle Birdsong who was waiting to being loaded onto the van was seen grabbing the package and attempting to hide it in his pants. The contraband was confiscated from Birdsong and he was transported back to the jail. Along with earlier drug and trespassing charges related to an ounce of meth found in a vacant apartment in Tuolumne, as reported here, he faces new charges of attempting to bring contraband into the jail and criminal conspiracy.