Sonora Man Wanted For Drug Sales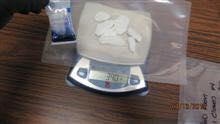 Drugs found in bedroom of vacant apartment

View Photos
Tuolumne City, CA – A suspect wanted on drug charges and trespassing climbed out a window of an apartment as deputies entered through the front door and then found drugs inside.
Maintenance staff at a Tuolumne City apartment complex last week recognized 23-year-old Kyle Birdsong inside a vacant apartment and called the Tuolumne County Sheriff's Department.  Birdsong was already wanted for felony drug charges related to manufacturing. When deputies arrived on the scene, they repeatedly ordered that anyone inside the apartment should exit immediately. When no one came out staff gave deputies a key to enter the apartment. Once inside deputies were approached by a woman and began questioning her. That is when witnesses saw Birdsong crawl out a bedroom window. Deputies combed the area but could not find him and he remains on the loose.
A search of the bedroom uncovered more than an ounce of methamphetamine, drug paraphernalia, heroin and a digital scale. Anyone with information regarding Birdsong or his whereabouts is asked to contact the call sheriff's office at 209-533-5815.