Cherry Lake Boat Ramp To Close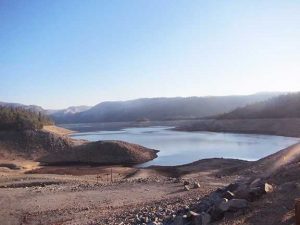 Cherry Lake level on 8-24-17

View Photos
Sonora, CA – This is the last weekend for water enthusiasts to use the Cherry Lake boat ramp.
The ramp and portions of the Cherry Borrow dispersed camping area on the Groveland Ranger District will close on Monday. Hetch Hetchy officials report they are lowering the lake level by 200 feet to enable workers to make critical repairs to the dam's intake valves. This winter one of the four high flow release valves suffered a mechanical failure and two others are scheduled for replacement this fall. "Valve repair and replacement is required to ensure future safe operations at the dam prior to the next rainy season," state Hetch Hetchy officials, who add, "If not replaced, the valves could become inoperable. Such failure in the future could result in uncontrolled releases from the reservoir through the valves or over the spillway. This poses potential risks to dam and public safety."
Stanislaus National Forest spokesperson Diana Fredlund explains, "As they have lowered the lake the conditions are becoming unsafe to launch boats from the boat ramp or operate mechanized boats on the lake due to seen and unseen hazards." She notes that the parking lot near the launch is going to be used to stage materials and equipment for the work.
Additionally, the gate at the Cherry Lake Dam will be closed on Tuesday, September 5. Fredlund details that any vehicles remaining on the Lake Eleanor Trailhead side of the dam after Sept. 4 will be blocked until repairs are complete in about six to eight weeks. Visitors are encouraged to avoid active construction areas around the dam and follow all road signs.