Alleged Heroin, Meth Dealing Pair Jailed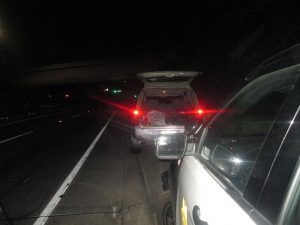 Drug sales arrest Aug 20 2017 near downtown Sonora

View Photos
Sonora, CA — An early Sunday morning traffic stop bagged two suspected drug dealers, who now face numerous charges.
Just after 3 a.m. after spotting a green Nissan Xtera SUV with an expired registration tag on Highway 108 near South Washington Street, deputies determined that Tiffany Keeslar, a 35-year-old Modesto resident, was driving on a suspended license and that her passenger, Bridget Brennan, 39, of Sonora, was also wanted on a misdemeanor warrant.
A search of Brennan turned up a glass methamphetamine smoking pipe. Another meth pipe and two hypodermic syringes were discovered during a vehicle search that also uncovered seven packages of meth weighing about 11 grams in total.
As both women were booked into the Tuolumne County Jail on several charges including possession of and transportation of meth for sale, Keeslar turned over an additional seven packages containing heroin, totaling 11 grams. For that she was additionally charged with possession and transportation of heroin for sale and for bringing it into the jail.