Forest Managing Douglas Fire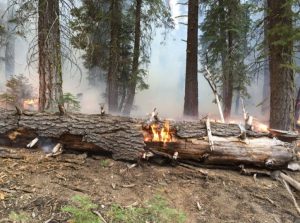 Douglas Fire

View Photos
Tuolumne County, CA – The acreage on the Douglas Fire, sparked by lightning last month in the Stanislaus National Forest Summit Ranger District, is holding steady at 89 acres as crews are overseeing the fires spread.
The fire is burning south of the Douglas Picnic area off Highway 108, and about 15 miles outside of Kennedy Meadows and there is no containment as firefighters are allowing it to burnout naturally. Sporadic showers from thunderstorms, fire behavior and smoke was minimal this week. Forest spokesperson Diana Fredlund reports the blaze is low intensity and in an area that is pretty wet from the stormy winter, which she says can be easily managed. She details, "We are continuing to shore up the fire lines so they are nice and strong. We are going to be letting the fire burn inside that area to give it the fire treatment that we're looking for to help reduce the fire risk. So, that is what we are going to be doing the next several weeks as long as the fire continues to behave with a low intensity and slow spread." She adds that a fire crew remains camped out close to the fire to monitor it.
A Forest Closure Order is in effect on Forest Road 6N40Y, starting 300 ft. south of its intersection with the Middle Fork of the Stanislaus River, and continuing 1.5 miles to the southwest. It also includes all areas ½ mile south and southeast of the 6N40Y road closure.