National Park Service Ends "Water Bottle Ban"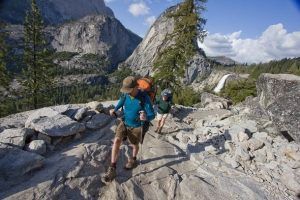 Yosemite's Nevada Falls Trail

View Photos
Washington, DC — The National Park Service announces that it is ending a policy that is often referred to as the "water bottle ban."
Back in 2011, in an effort to encourage visitors to bring their own reusable water bottles to federal parks, the National Park Service banned the sale of disposable water bottles.
Announcing the reverse in policy this week, Acting National Park Service Director Michael T. Reynolds, says, "While we will continue to encourage the use of free water bottle filling stations as appropriate, ultimately it should be up to our visitors to decide how best to keep themselves and their families hydrated during a visit to a national park, particularly during hot summer visitation periods."
Mother Lode Congressman Tom McClintock took to social media yesterday to praise the NPS decision, saying, "Kudos to the National Park Service for dropping its visitor-unfriendly bottled water ban."
The ban was put in place by the Obama Administration as part of a "Green Parks Plan," a wide effort aimed at reducing waste and carbon emissions at national parks. Many larger environmental groups are criticizing the Trump Administration's decision to reverse the policy. The Sierra Club states it is a symbol of "this administration's larger attacks on environmental safeguards and protection of public lands."
Acting NPS Director Reynolds added that critics of the initial ban complained that it was unfair because sugary beverages, like soda, were still allowed to be sold in the parks.