Illegal Grow Busters Teams Busy In Calaveras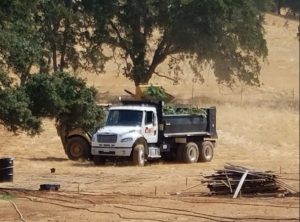 CCSO Evidence Photo Heiser Canyon Illegal Grow, Pre-eradication, Aug 2 2017

View Photos
San Andreas, CA — This week three multi-agency teams led by the Calaveras County Sheriff's Office have already outpaced its own illegal marijuana eradication activities since January.
Speaking with Clarke Broadcasting yesterday Calaveras Sheriff Rick DiBasilio signaled what will likely result by Friday in a gangbusters week for eliminating numerous illegal grows throughout the county. As reported here last week, the sheriff shared details concerning the county's eradication efforts since January along with thoughts relating to this year's harvest.
Explaining this week's field activities, the sheriff shares, "We are working in conjunction with other entities, Fish and Wildlife, the CHP, Department of Water Resources, [county] co-compliance…we have multiple people who have come out."  He adds, "This is part of a program that we put together about three months ago that we have been working on. We have brought in environmentalists…to review and we are hitting the unregistered [illegal or unable to get a permit] sites…because they are obviously out of compliance."
In addition to destroying illegal grows and making arrests, the sheriff emphasizes that Fish and Wildlife and DWR officials are in tandem issuing citations to the property owners. Asked whether these group efforts will be part of a short, targeted spurt, the sheriff demurs a bit, offering, "Three teams are spread out over several areas and we are all going to be here for a bit -– it is ongoing." As for the costs and funding involved, he admits to having little idea as to what the total will be until all the costs are tallied. With regard to the latter, he confides, "There is no federal funding — it is coming from marijuana [registration] fees, some from the general fund, depending on the program used to eradicate — and a lot of it is being paid for through the state by CHP, DWR and Fish and Wildlife…it is like mutual aid."
Telegraphing A Toughening Stance
According to Sheriff DiBasilio, the fast and furious flurry of focused eradication activities should send a message to illegal operators across the county. "If you are an unregistered grower or a grower who had a registration that has been denied, don't grow in Calaveras County because we are going to take your product," he states, matter-of-factly.
Monday at five locations, the teams eradicated 12,617 plants, made seven arrests, recovered two weapons and had two structures red-tagged. Tuesday's yield at six locations was 6,292 plants and five arrests. (Click the image box slide show for a few field images supplied by the sheriff, including some taken today from a Heiser Canyon grow site operation where a team subsequently eradicated 5,000 plants.)
For residents who may be on the lookout in their neighborhoods, the sheriff offers this visual aid: "If they see a long line of cars and trucks with trailers and equipment and helicopters flying over — know that your sheriff's department is doing what it needs to do to eradicate these illegal grows."
As fall harvest activities gear up later this month, the public continues waiting for the county supervisors to figure out whether the board will opt to ban commercial grow activities — as a three-supervisor bloc hopes to do — or if it will move into crafting more viable long-term grower regulations than provided under the existing urgency ordinance regulating medical marijuana grows. While it is widely considered to be deeply flawed, it allows the county to collect fees and taxes that help pay for enforcement costs. "One way or another, they need to figure out something before January 1 — so we can get something in place," the sheriff affirms. "Whether it is a ban or regulation they need to do something — and hopefully in the next meeting or two they will do that…make a decision so I know what direction to go."
Initial Busts Yield Nearly A Dozen Arrests
Tuesday afternoon around 1 p.m. at an illegal grow site in Glencoe at 14751 Highway 26, two men with Sacramento addresses, Cha John Xiong, 48, and Pao Jack Xiong, 38, were picked up and each subsequently charged with felony marijuana cultivation and conspiracy to commit a crime. Arrested in the 10 a.m. hour at 2500 Spruce Creek Road in Railroad Flat on misdemeanor illegal grow charges were Tien Nguyen, 60, of Stanton Island, NY, and Cop Ba Ngo, 51, of San Jose. The sheriff pointedly recalls this location as among those eradicated last season. "It was a flat out illegal grow…never attempted to register it…and we went back there this year," the sheriff notes dryly, adding that those involved gambled — and lost — on the chance that enforcement officials would get to them again.
Earlier Tuesday morning, around 8:30 a.m. at 117255 Jesus Maria Road, Ya Vang Xiong, 41, of Sacramento was picked up on two felony charges. Shortly afterwards, at a grow located at 126 S. Railroad Flat Road in Railroad Flat, Juan Blanco Peralta, 28, of Santa Rosa, was arrested on misdemeanor counts of illegally cultivating marijuana plants and obstructing a peace officer.
On Monday, several more illegal growers in the West Point/Railroad Flat area were arrested on related felony and misdemeanor charges. Among these are Cheng Kuang Chao, 67, and Nai Wang Chao, 56, both with Sacramento addresses, associated with a grow that was located at 1423 Argonaut Lane; Thuyen Thi Nguyen, 60, linked to a grow at 1360 Argonaut Lane; also Nhat Tien Nguyen, 35, of Stockton, and Phu Minh Nguyen, 31, of San Jose, arrested at 21482 Highway 26.