Calaveras Sheriff Shares Update On Eradications, Upcoming Marijuana Harvest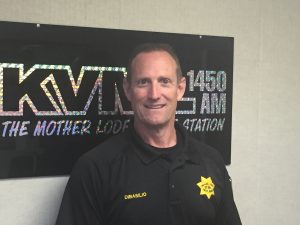 Sheriff Rick DiBasilio

View Photos
San Andreas, CA — Compliance inspections and marijuana grow eradications are establishing "a rhythm" in Calaveras County says Sheriff Rick DiBasilio.
In an interview with Clarke Broadcasting this week, he reports that his marijuana eradication team and the planning department's co-compliance staff are working hand-in-hand to enforce the county's urgency ordinance regulating commercial medical grows that remains in effect, while at least three of the county's five supervisors still seem bent towards bringing a ban into law. He adds that the county's 8.06 Ordinance, enacted in recent months to decrease the 120-day appeal process for illegal grows down to 18 days, has been key.
Too, the sheriff confides, "We are seeing a lot of self-eradications. We go out, write the citations and go back and find that they have self-eradicated all their plants…a lot of people are taking it upon themselves to leave." However, he qualifies that seemingly good news: "Whether they are taking the plants and moving them to another site or giving up the ghost is unknown to us at this point." Plants that are part of outdoor grows are currently in pre-bud stages, so he emphasizes there is no actual drug product involved in those plants unless and/or until they mature.
Eradication Numbers To Date
As official figures go, the sheriff reports so far 11 locations have been eradicated this calendar year to date by county resources, involving a total of: 13,649 plants; 476 pounds of processed and approximately seven pounds of concentrated illegal marijuana; along with three weapons and $62,000 in cash. Additionally, five arrests were made and one citation was issued.
While county planning staff and legal counsel continue, under the direction set by a supervisors' majority, working to bring a draft ban ordinance to the board, the sheriff simply states, "I am still in the waiting game along with the public. We are still moving in a forward direction – just like we always have been – continuing to go after the illegal grows and making sure that the legal growers are staying in compliance — and if not they are being cited. I think those are the ones that we are seeing do the self-eradications – the ones that are registered that are not coming into compliance."
The county's first round of Measure C taxes, which are due twice yearly from registered growers who are assessed by the size of their grow canopies, were due by June 30. While the county reportedly took in about $8.5 million, not everyone paid. Those who did not pay by the July 17 grace date are now being considered non-compliant — even if their grows may otherwise be; therefore eligible for eradication. To be considered a registered grower by the county's standards one has to either have successfully completed the application process and received a permit or have submitted an application by the May 2016 moratorium date and have an application still within the approval process.
Looking Ahead To Harvest Time
While indoor grows can harvest up to four times a year, this year's outdoor crop was delayed due to the wet, late winter followed by a lot of heat, which might generate a longer harvest. The sheriff speculates that this season might peak from mid or late August to mid-September, and again in late October into early November. However, he notes, "If it looks like there is going to be a lot of rain [growers] will harvest it early so the crop does not get wet and moldy."
In tandem with ripening buds, the sheriff surmises and expects neighbor complaints to pick up by the end of August as the distinctively "skunky" crop smell begins to permeate the surroundings. "And it is being moved around and transported, which contributes to that," he explains.
Since registered and compliant commercial medical grows are legal in Calaveras County, the sheriff says his office does not generally hone in on local transportation-related activities. However, until recently enacted state laws kick in on January 1, 2018, no one can technically cannot transport the crop across county lines. Of course, as he dryly points out, "Technically if they get out of county they can be cited and or arrested for transporting marijuana…a felony because it is still considered a Schedule 1 drug."
Continuing that line of thought, Sheriff DiBasilio chuckles and nearly avoids a sigh as he issues one of his trademark comments, "It is a big bowl of quagmire — the state trying to combine Prop 64, MERSA and commercial growing all into one." He admits frustration at how he says lawmakers and officials keep "changing the game," causing law enforcement headaches and uncertainties as to what state enforcement capabilities will actually be in place by January 1.
Addressing Staffing, Crime Concerns
Locally, the sheriff says that prospects towards beefing up his perennially too-slim staff roster are looking better. "We are moving forward and have three guys in the Academy and we are hoping to pick up two more," he reports. Too, he says, a third detective is now in-house and plans to hire a fourth one by fall are on track. Addressing crime concerns. the sheriff maintains that while the marijuana industry has caused crime to increase, it seems mostly due to grower-on-grower related incidents. "We are not seeing your house or my house being burglarized because of growers…it is because growers are ripping each other off, stealing equipment…from each other."
These kind of criminal activities have the propensity to create vigilante situations among illegal growers, he agrees. However, "The legal growers report it. I hear a lot of stories [about illegal grow-related crimes] but have no way or confirming or denying if people do not come forward."
Sheriff DiBasilio adds that people who feel endangered — even if involved with illegal marijuana — might consider the benefit of calling his office for assistance rather than getting involved in what might become a life-threatening situation. He says simply, "We can only help people if they want us to help them — and they tell us."